What's Unique About PLY Magazine?
Single topic issues
Single topic issues allow us to deeply explore a spinning topic from every angle. Collecting issues of PLY is like building your own comprehensive spinning library that you'll refer to often.
Beginner to Advanced
We don't just cover the basics, we explore and experiment. Whether you need to build skills and be inspired or advance the skills you have and step out of your comfort zone, PLY is for you.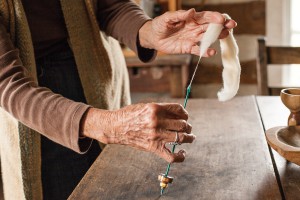 Look and Feel
PLY is an indie magazine that looks and feels different than other magazines. With 121 archival-quality pages and only 15% ads, you get more information and gorgeous photography.
The Flax Issue
The spring issue is all about flax. And Linen. And spinning. And people. And the world. It's an issue filled with so much knowledge and so many personalities that it almost didn't fit in the 112 pages we had for it.
Have you been intimidated by this mysterious yet humble fiber? This issue can help, starting with the language, processing, preparation, and the simplest way to begin.
Are you unsure of how much twist linen yarn wants and needs? This issue explores that very issue, for singles and plied yarns.
Are you ready for some more advanced techniques? Different preparation, finishing, bleaching? This issue has that too.
We tried to cover it all, from basic to beyond. Whether you're a veteran flax spinner or somebody that's not sure where flax ends and linen begins, this stunning issue is made for you. Covering history, lingo, growing, processing, spinning, plying, and finishing plus when and how to dye, why you might want to bleach your linen, how to spin it wet, dry, and on a spindle, and exactly how much twist it really needs, this issue is chock full of spinning stuff! There are also 3 fun and accessible projects in 3 different fiber arts. Don't miss this inspiring issue.
We have been lucky enough to work with Brooke Logan from The Painted Tiger on a number of PLY projects. Today, we've got a sneak peek behind the scenes into Brooke's business and a giveaway of her gorgeous Gotland fiber!   About The Painted Tiger  It is always interesting to hear how people got into the fiber arts for […]
https://plymagazine.com/wp-content/uploads/2014/06/plylogo-condensed-pnk-300x164.png
0
0
Jessica Cook
https://plymagazine.com/wp-content/uploads/2014/06/plylogo-condensed-pnk-300x164.png
Jessica Cook
2017-12-20 09:12:11
2017-12-20 09:12:11
Behind the Scenes: Indie Dyer Brooke Logan of The Painted Tiger
Join our monthly mailing list
What our Subscribers are Saying
This is the only magazine that I use and keep like a book. When it arrives, I drop everything and read PLY cover to cover. I indulge in all of the well-written content, beautiful photography, as well as the pertinent topics, discussions, instruction, patterns, tips, thought-provoking articles and product reviews. I look carefully at all of the ads as well for new tools and fiber sources! As a spinner and fiber artist, PLY is an invaluable resource that I refer back to often when dreaming up new projects. Thank you PLY for playing a vital role in my fiber arts journey!
I look forward to receiving my issue of PLY each quarter. I spend the next few weeks poring over every article and project and review. I then shelve the issue right next to my fibre reference books. I have gone back to past issues many times. This magazine is so very inspiring. Not only is there a great deal of information from many different spinners there is also a general spirit of enthusiasm and curiosity that is evident in this magazine. The contributors try so many different approaches and it really opens my eyes to all kinds of possibilities that I want to work on myself. I don't subscribe to any other publications. I've never come across another magazine that is so consistently worth every penny.
PLY magazine has filled a void in the magazine publishing world. Many of the magazines have gone to less in-depth articles or in some cases, no articles; just patterns. I enjoy a magazine that I actually have to take time to read and that makes me want to pull out fiber and try some of the techniques. There is enough information and pictures in the articles that that is possible. It also doesn't seem like a rehash of the same information presented in a different format. The limited advertising space is also a big plus. Keep up the good work. I look forward to each issue.
PLY Magazine is hands down the best money I spend on my spinning every year. I get so excited about every topic covered and the quality of the articles is not to be beat! But the best compliment I can give it is actually not mine at all. I recently had some houseguests (friends of my partner) staying in the house. While hanging out in the living room one morning, one of these fellows picked up the Cotton issue of PLY, which was hanging out on the coffee table. A non-spinner, I was surprised to see him reading the whole issue, cover to cover, and ask me questions. Fiber craft is not something he's into, but he got so engrossed in the magazine topic that he asked if I could show him how a spindle worked. I was so happy to see that not only is it a beautiful coffee table magazine, but it does the same thing to non-spinners as it does to me – makes them excited about things they didn't think they liked!